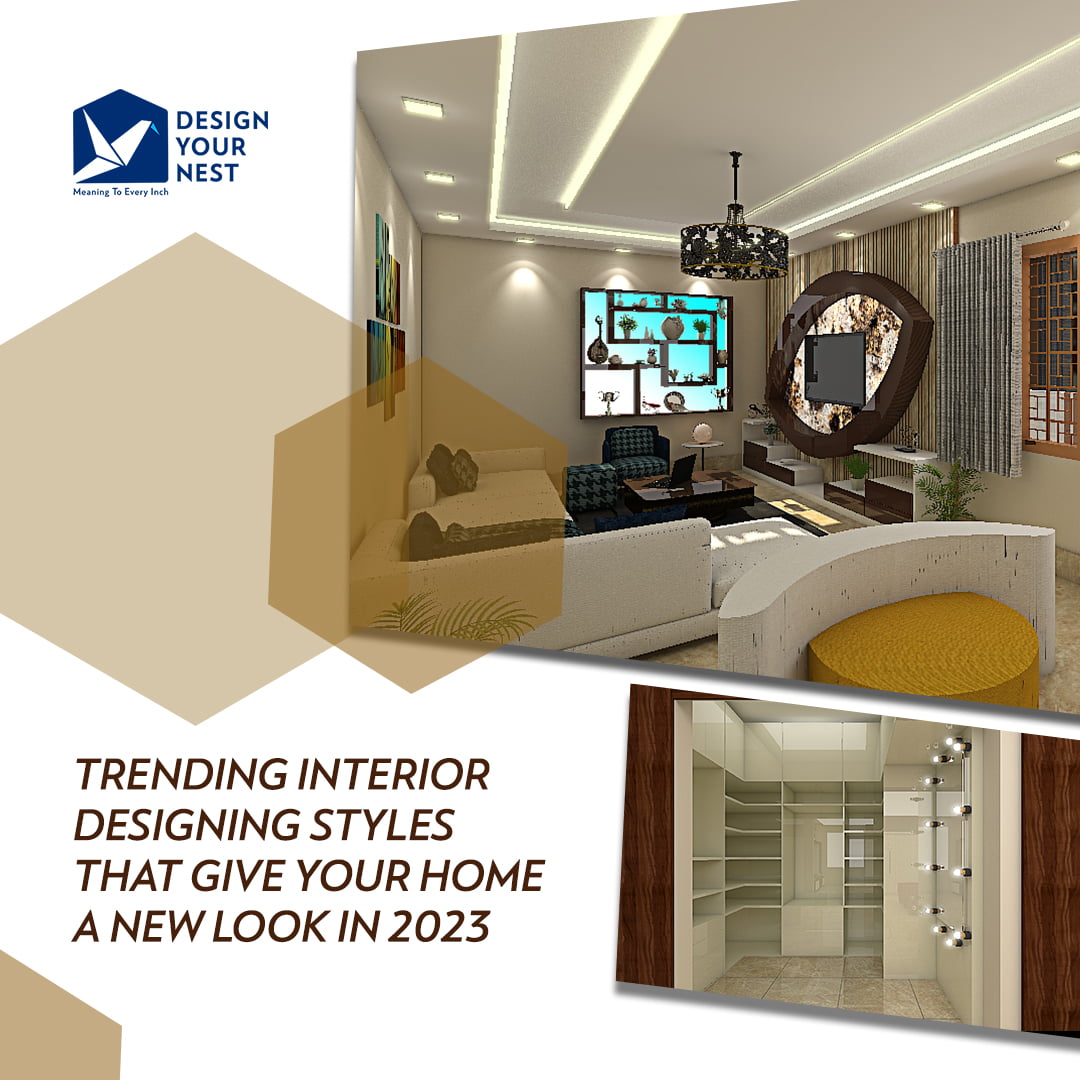 March 27, 2023
New Interior Designing Styles Trending in 2023 to Transform Your Home's Look
Nerves were still raw from months and months of tension brought on by the pandemic when 2022 started. Everything feels a lot more upbeat right now, including the 2023 design trends.
While 2022 was all about calming color schemes, plush, all-encompassing furnishings, and an overall feeling of swaddling and tranquillity, 2023 will usher in bold, evocative individualism.
 The market is finally moving away from more romantic forms like cottage core and even the numerous variations of farmhouses. "Styles like these just appear too  naive escapist as we move past pandemic concerns and fears and approach freshly complex realities.
What's in store for us now that we're returning to reality?
Let's see! Here are some predictions regarding home design in 2023.
1. A Splash of Colour
What could be a better representation of a zeal for life than a colorful palette? Even if they only show as accents, happier colours are becoming more popular in interior design than white and neutral tones.
The minimalist ethos is expanding beyond simplicity and practicality to include more expressive features, as society continues to exalt the individual. "Minimalism is adopting a wider role as a stylistic tabula rasa in our evolving environment.
The all-white interior design is ineffective. To avoid becoming clinical, it's crucial to give contrast, warmth, and dimension to white spaces. People are choosing "warm chestnut or rich 'lived-in color' in furnishings, rugs, and pillows to add aspects of comfort and dimension to provide elements of dimension to avoid any hospital-like vibes." For those who prefer to keep things a little more understated, it is predicted that subtle, light tones of blue and green that read closer to whites will become increasingly popular. These "represent a new way of using colour," "they are more sophisticated and lay the groundwork for new palettes.
   2. With a heart of a master artisan
Over the previous few years, each of us has had ample opportunity to get to know our furniture thoroughly, A backlash against mass production has been sparked by that skilled eye in addition to a general desire for more environmentally friendly solutions. Throwaway objects and the widespread usage of materials made from fossil fuels and petroleum, such as hard, gleaming virgin plastics, appear wholly inappropriate in this day and age. The time of "bling" is over since luxury is now expressed in more subdued and organic ways. An emphasis is placed on elaborate design, the veneration of wood, and unique finishing touches like inlay and hand-hewn embellishments. Every subject, including the creation of fabrics, accessories, and hand-loomed rugs, need delicate handiwork.  "These trends are being influenced by the tendency toward customization and self-expression as well as the need to speak our values through our purchases." Following a protracted period of closure, "variety and diversity are immensely exciting—designers and innovators are once again taking risks. The importance of master craftsmanship is rising, and this gives our surroundings a lovely warmth.
3. Once-Old is Now-New.
A desire for personal expression also fuels the inclination toward fine craftsmanship: Consumers are no longer interested in coordinated surroundings and matching furniture sets. They like to simply add one-of-a-kind items, heirlooms, or treasures from the thrift store that they adore to their rooms. Finding and embracing your individual style, particularly in home design, is empowering.
Among the most inventive examples are antique French linen sheets dyed with bark and roots to create curtains and bed throws, as well as vintage shop counters and haberdashery units used as kitchen islands. "The confident home designer is mixing up the styles, vintage wooden furniture with recycled stone surface added, or vintage seating recovered in modern printed fabrics.
4. Biological Reconfiguration.
Over the previous three years, we have clung to as many biophilic components as we could, including statement plants and botanical designs. This passion is still strong now, but it is changing into something else.
Although biophilia is still significant, this year's trends are less influenced by lush nature and more by the erratic and imperfect. The desert scenery, mineral tones, mossy greens, and raw, unpolished textures are all celebrated in this movement.
It has also resulted in an intriguing new material palette. Groundbreaking companies are speaking the language of the earth, talking about biodiversity and insect populations, permaculture, and the peaceful coexistence of fiber, farming, and food. Material designers are now directly communicating with the intelligence of nature.
With the latest design trends set to take the interior world by storm in 2023, you have a plethora of options to choose from and create a unique space that reflects your personality and style.
Now that you've handpicked the design trends that resonate with you, it's time to bring them to life. But don't worry, you don't have to do it alone! With our expert assistance, you can easily turn your vision into reality and elevate your home decor to the next level.